Welcome to Queen Anne Bed and Breakfast
Looking for a cozy place to rest your head for the night? Queen Anne Bed and Breakfast, located in Nevada, Iowa, is just the place to be when you need somewhere safe, clean, and friendly to stay, whether it's just for a night or for the whole week. Queen Anne Bed and Breakfast offers amenities sure to make you comfortable during your stay, amenities such as breakfast included in the price of your stay, and complimentary parking and wifi.
Queen Anne Bed and Breakfast was built in 1879 and is listed on the National Historical Register! Since we're listed as a part of the National Historic Register, you're getting a little slice of history when you stay at Queen Anne Bed and Breakfast.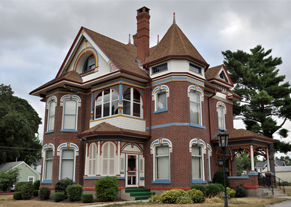 About Our Services:
Renting all the rooms and common areas except for the kitchen and basement is $500 per night. A contract is required. It's a great place for that wedding party or reunion stay!

Small weddings with up to 20 guests are possible inside our lovely home.

Outside weddings with up to 300 guests. Outdoor reception or reception at another location.

On site wedding officiant, with consultations and everything included except for the photographer and flowers.

Hickory Grove Lake: a 600 acre park with 99 acre lake for fishing, boating, and swimming.

Iowa State University in Ames with Stevens Auditorium for musicals and live entertainment, http://center.iastate.edu/about/stephens-auditorium/, just 50 minutes from Des Moines, the Iowa state capital.